GUNMACHAN is the adorable yuruchara (mascot character) of Gunma Prefecture. In Japan, simply-designed but still very cute characters are often created to help promote a region, location, or brand. Recently, yuruchara have been gaining popularity overseas, likely due to their heart-warming charm and sometimes amusing personalities.
Characterized as a super-deformed horse wearing a cap, vest, and bowtie, GUNMACHAN's design is perhaps a reference to the region being a center of horse breeding in ancient times. These days, Gunma Prefecture's rugged mountains and close proximity to Tokyo make it an attractive outdoors destination for tourists.
GUNMACHAN made the long trip from Japan to Los Angeles for Anime Expo 2023, where we got a chance to learn more about GUNMACHAN and the prefecture.
Warning: Strong themes of adorable cuteness and an unshakeable desire to visit Gunma await!
Is this the first time you have visited Anime Expo?
GUNMACHAN: This is my first time coming to AX! It's such a fun event!
What are your impressions of being in Los Angeles?
GUNMACHAN: There are cool buildings everywhere and you can also eat big sandwiches. It's a really nice city.
Where is Gunma Prefecture located in Japan?
GUNMACHAN: Gunma is located inland, north of Tokyo! It's only 45 minutes away by the Shinkansen.
Editor: Perfect for a day or overnight trip!
What are the charms of Gunma Prefecture?
GUNMACHAN: Even though it's close to Tokyo, Gunma is a place filled with hot springs, mountains, and nature.
Just a few of the many outdoor adventure locations in Gunma Prefecture.
Editor Note:
Top-left: Ichinokura-sawa, a very popular climbing spot on Mount Tanigawa. The girls of Yama no Susume (Encouragement of Climb) climb this mountain in the second season of the anime. (They also climb two other peaks in Gunma during the third season, which we'll discuss later.)

Bottom-left: Canoeing on Lake Shima, known for its striking blue color.
Right: Canyoning (or canyoneering) in Minakami.
What are some places in Gunma you think people from overseas should visit?
GUNMACHAN: Onsen (hot springs)! Gunma has the best onsen in Japan. There's also a ninja museum where you can become a ninja, and the world heritage Tomioka Silk Mill.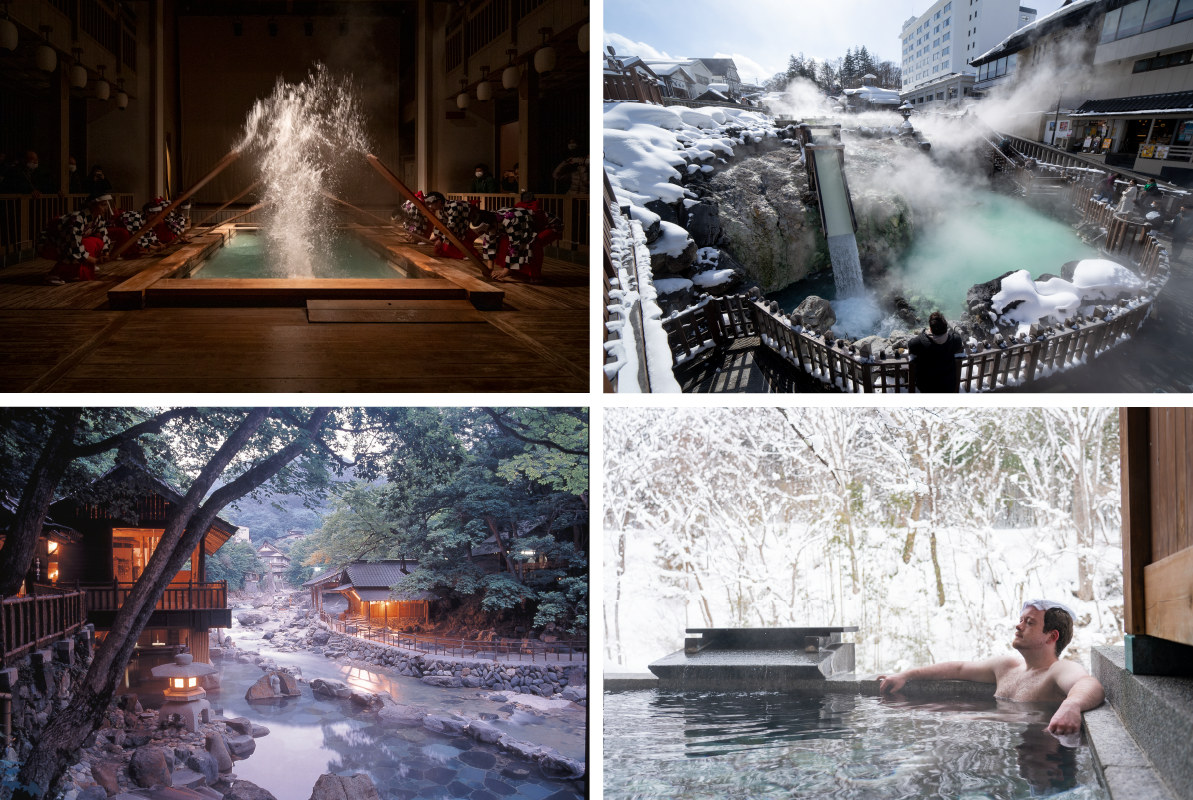 Two of many onsen regions in Gunma Prefecture.
Editor Note:
Top: Award-winning hot spring town of Kusatsu Onsen. At more than 5,000 liters/minute, it has the highest volume of free-flowing hot spring water in Japan. The Yubatake (hot water field) cools the 70°C water by flowing it through wooden conduits before sending the mineral-rich water undiluted to the various inns and public baths. Yumomi is a traditional ritual that uses large wooden planks to cool the water further before bathing.

Bottom: Another great hot springs region in Gunma prefecture is Minakami Onsen. Minakami is also a popular outdoors adventure spot, and there's nothing like soothing your tired muscles after a day of canyoning or whitewater rafting.

The Ninpaku Ninja Museum in Higashiagatsuma offers a three day authentic ninja training course in the historical area of Agatsuma, taught by a certified Nindo instructor who is a descendent of the Agatsuma Sanada Ninja.

Established in 1872, the Tomioka Silk Mill was the first modernized silk factory in Japan. By 1905, Japanese raw silk accounted for 80% of the global market. The mill and related sites were designated a UNESCO world heritage site in 2014 as a symbol of Japan's modernization.
Can you recommend any local cuisine in Gunma Prefecture?
GUNMACHAN: Yakimanjuu (grilled steamed bun)! It's a steamed bun that's covered in a sweet-salty sauce and then grilled. GUNMACHAN also likes it very much!

Editor: It looks amazing, we want to try it!
Are there ways to tell if someone is from Gunma? For example, a word that people tend to say or a specific speech pattern?
GUNMACHAN: There's a game called Jomo Karuta which everyone in Gunma knows. For example, someone says Asama no itazura (Asama's mischief), and people reply with oni no oshidashi (pushing the demon out).
Editor Note: If you've seen the anime Chihayafuru, then you should be familiar with the concept of karuta. Very simply, it's a game which involves memorization and being the fastest to take a card once it is read. Jomo Karuta is a version with 44 cards that was created in the late 1940s to help teach children the history and culture of their birthplace, Gunma Prefecture.
The "A" (あ) card in Jomo Karuta has the phrase GUNMACHAN mentioned. "Asama no itazura" refers to the temperamental nature of Mount Asama, an active volcano located in Gunma. In 1783, Asama erupted and the flowing lava created a "lava rock park" called Onioshidashi. "Oni no oshidashi" comes from the legend that an oni forced its way out of the mountain, causing the lava to flow.
As GUNMACHAN mentioned, people raised in Gunma usually spend much of their childhood actively playing Jomo Karuta and have all the cards memorized. So if you say the beginning of one of the cards, then a Gunma native is sure to reply with the rest of the card!
https://www.youtube.com/watch?v=iYCHG_TayrQ
Editor: Maybe knowing GUNMACHAN's dance is another marker of a Gunma native? Watch this adorable clip of GUNMACHAN dancing for us!
Please share a message for anime fans who hope to visit Japan soon!
GUNMACHAN: There are many places in Gunma that have been used as a setting for anime.
With lots of delicious food and beautiful nature, you can enjoy Gunma whenever you come!
Please visit Gunma prefecture!
Editor Note: Some anime set in Gunma Prefecture include:
Nichijou – The anime is set in the city of Isesaki, and many of the characters have surnames that refer to other cities in Gunma, such as Mai Minakami (we talked about Minakami Onsen earlier).
Initial D – Most of the street racing takes place in mountain passes located in Gunma Prefecture. For Initial D fans, Shibukawa City is a great place to visit with many spots from the anime located in the vicinity.
Sora yori mo Tooi Basho (A Place Further Than the Universe) – The anime is set in the city of Tatebayashi, and many spots featured in the anime can be visited.
Yama no Susume (Encouragement of Climb) – The girls climb Mount Tanigawa in the second season of the anime, then go on to climb Mount Gunma and Mount Akagi in the third season. They also spotted GUNMACHAN filming at Akagi Shrine! (Other featured attractions include Ikaho Onsen, one of the four famous hot springs in Gunma, and Lockheart Castle, an 1820s Scottish castle that fell into neglect but was given a new life in Gunma after it was sent stone-by-stone via the Trans-Siberian Railway.)
Omae wa Mada Gunma wo Shiranai (You Don't Know Gunma Yet) – A short comedic anime series all about Gunma, teaching you about the local culture! We watched it after researching this article and found it fun to pick out the things we learned, so maybe give it a shot.
Interview was conducted in Japanese and edited for clarity.
Want to visit Gunma prefecture during your next trip to Japan?
Check out this guide:
https://www.visit-gunma.jp/en/plan-your-trip/first-time-visitors/
To learn more about GUNMACHAN, check out the anime!
Synopsis
This is Gunma, spelt in hiragana. In some ways, it is an unusual world. But despite being an unusual world, it is a pleasant and welcoming place. Just as there are many different types of people around you, there are just as many peculiar residents who live there. What could GUNMACHAN be up to in this Gunma?
Watch on Crunchyroll | Add to My List