Comic Market (Comiket) 97 was held at Tokyo International Exhibition Center from December 28 to 31, 2019. It is a sales convention of doujinshi, a kind of fanzine that encompasses manga, anime, games and even idols. It is also known for the congregation of cosplayers from all over Japan.
©︎Comic Market Committee
Comiket started in 1974, and this marks the 97th time the event's been run. In recent years, the crowd size has swollen to 750,000, making it one of the most attended events in the world. Admission is free, but there are so many attendees that most popular doujinshi sell out early. Thousands of fans line up around the venue as early as 5 a.m. to wait for the 10 a.m. opening.

©︎Comic Market Committee
The line continues endlessly long after Comiket begins. To make it into the venue before noon, one has to wait for 2 hours. There are people who enjoy the cosplay, but the majority are here to buy doujinshi, which average about 500 yen per book, and there are those who buy a few dozen toting a small suitcase on wheels.
A group of people who sell doujinshi are called a circle, and there were approximately 8,000 of them at Comiket. Popular circles may see sales as high as 5 million yen during the fair. The circles apply 6 months prior to enter a lottery to participate. The minimum space available is a small desk with two chairs, costing 8,000 yen.

©︎Comic Market Committee
This year's attendees averaged 190,000 a day for a total of 750,000. Cosplayers are required to register beforehand and are allowed only in the specified area. The whole fair counted 8,245 male cosplayers and 16,888 female cosplayers.
The cosplay areas were crowded with cosplayers and those who took photos. It is considered good manners for amateur photographers to line up and greet the cosplayers before they start shooting.

©︎Comic Market Committee
Each participant, whether they're a customer, seller, photographer, or cosplayer, is expected to behave with self-discipline and kindness to others to make the event a great success, as it has been held in peace nearly 100 times.
MyAnimeList paid a visit on the first day, December 28. Because Tokyo International Exhibition Center is under renovation as the press center for the Olympics and Paralympics in 2020, there was a change in the way the arena was organized, as the cosplay space was zoned and divided into a handful of places. In other years, cosplayers are rounded up into one main area, but this year saw the designated areas split into four different locations.
At Comiket, cosplayers are allowed to be in costumes only in the assigned areas outdoors. Walking into the exhibition while cosplaying is forbidden. Furthermore, riding public transportation in disguise is against the law, so cosplayers change into their gear in changing rooms set up at the arena. This voluntary rule is well known and abided by all, so you'll never see a cosplayer riding a train connected to Comiket venue.
At this year's Comiket, the number of Kimetsu no Yaiba cosplayers was overwhelming. Female cosplayers favor Fate, but on this particular day, more Nezuko, Shinobu, and Kanao were observed.
The following are cosplayers MyAnimeList encountered:


Sanemi Shinazugawa, Tengen Uzui, Inosuke Hashibira, Kyoujurou Rengoku from Kimetsu no Yaiba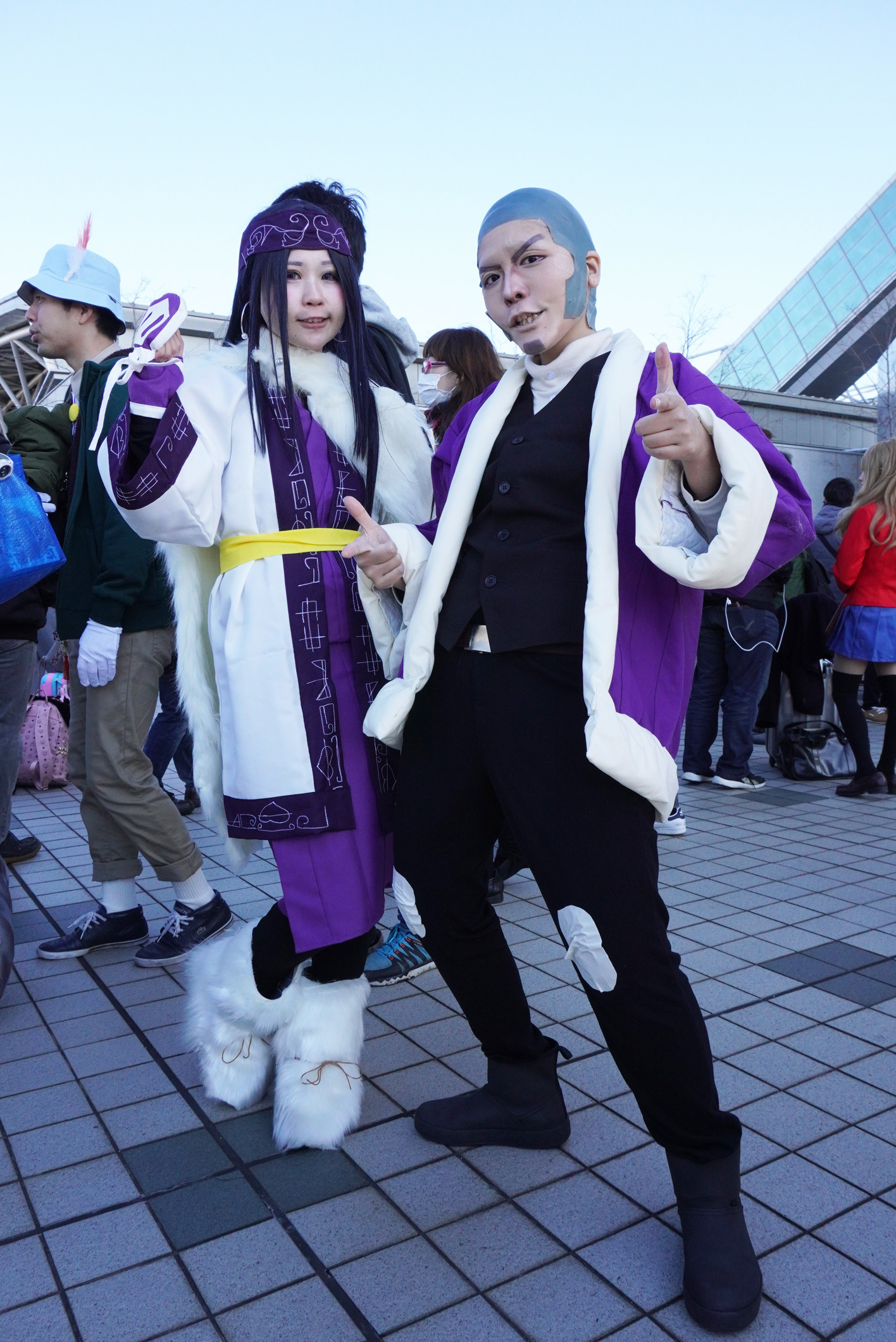 Asirpa, Yoshitake Shiraishi from Golden Kamuy

Zero Two from Darling in FranXX

Mitsuri Kanroji, Kanao Tsuyuri from Kimetsu no Yaiba

Nezuko Kamado from Kimetsu no Yaiba

Zenitsu Agatsuma from Kimetsu no Yaiba

Mr. Chang, Hansel and Gretel, Balalaika, Revy from Black Lagoon

Madoka Kaname from Mahou Shoujo Madoka★Magica

Saber from *Fate/Zero

Nezuko Kamado, Shinobu Kochou from Kimetsu no Yaiba

Asuka Langley Souryuu from Neon Genesis Evangelion

Ougi Oshino, Sodachi Oikura of Owarimonogatari

Violet Evergarden from Violet Evergarden

Various characters from Enen no Shouboutai

Ririka Momobami from Kakegurui

Madoka Kaname, Homura Akemi from Mahou Shoujo Madoka★Magica, Hotaru Shirare from Dagashi Kashi (center)

Amane Ubuyashiki, Kagaya Ubuyashiki from Kimetsu no Yaiba

Shunsuke Imaizumi, Jin Tadokoro, Touichiro Izumida, Yuusuke Makishima from Yowamushi Pedal

Krista Lenz, Sasha Blouse from Shingeki no Kyojin

Ray, Emma, Norman from Yakusoku no Neverland